Hardcore World 1
Jump to navigation
Jump to search
Hardcore World 1 is the second extra bonus world that was added in Mario Forever,This world,is one of the most challenging worlds in the original game,It contains 4 levels,First is a fastrun level,Second and third are overworld levels,while the fourth one is a castle level.
Hardcore World 1
Developer:
Buziol Games
Theme(s):
Fastrun
Afternoon
Castle
First appearance:
Mario Forever 3.50
Level synopsis
Preview
Level
Theme
Level length (in pixels)
Time
Hardcore 1-1
Fastrun
Afternoon
???
360
Hardcore 1-2
Overworld
Afternoon
???
360
Hardcore 1-3
Overworld
Afternoon
???
360
Hardcore 1-4
Castle
???
480
Boss
Bowser has 8 lives,and this time,He carries a Bullet Blaster,which shoots Bullet Bills,Defeating him will unlock Hardcore World 2.
Unlocking Criteria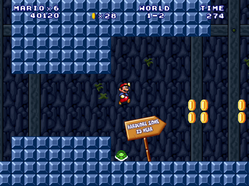 In World 1-2,you'll see a sign saying 'Hardcore Zone Is Near',if you jumped on two blocks in the first pipe,A message will appear,which says 'You Have Found A Secret Passage to Hardcore World 1',indicating that you've unlocked it.
Enemies
Green Koopa Paratroopas
Fire Bros
Spiny
Bill Blasters
Bullet Bill
Hammer Bros
Roto-discs
Silver Hammer Bros
Piranha Plants
Pink Piranha Plants
Cheep Cheeps
Bowser
Trivia
Hardcore World 1 is the only Buziol world that uses the 'Fart Castle' theme.
Related articles